New Realm Brewing launches a limited edition summer release June – July of 2019 that is available in their to-go coolers, on draft, .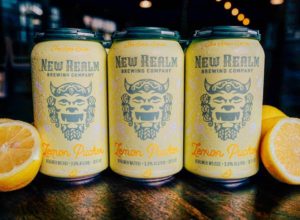 Described as "Grown up lemonade without the sugar" by Mitch Steele Co-Founder and Brewmaster of New Realm Brewing.  Brewed with lemondrop hops and post fermentation lemon peels, this seems to aim squarely to be the lemon shandys cousin. that we also keep in the fridge. We haven't had a chance to taste it yet but we will update you on how lemony and tart the flavor is and it's summer drinkability.
Atlanta beer drinker's can visit New Realm Brewing at 550 Somer Terrace NE Atlanta GA 30306. Located on the beltline in Atlanta, New Realm offers a restaurant, rooftop bar, event space and large outdoor seating area and patio, where you may even see yoga or rock climbing.